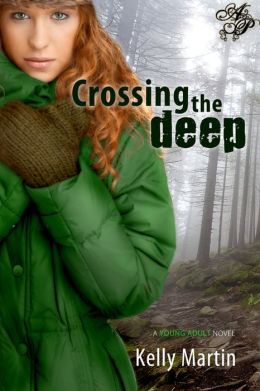 Crossing the Deep by Kelly Martin
Summary from Goodreads:
Sixteen year old Rachel Harker expects the church sponsored hiking trip in the Smoky Mountains to be short and painless. Four days later, injured and scared, Rachel prays to just make it home alive.
Asher Jenkins, fellow hiker and handsome skeptic who is only on the hike so he doesn't have to go home and face his abusive 'uncle', finds Rachel in the woods and tries to get her back to Deep Creek Trail. A small hole hidden under the fall leaves causes her ankle to twist and forces Asher to leave her to get help. As night falls, he comes back, unable to find the right trail.
As hours stretch into days, an unexpected rainstorm bears down the mountain, flooding Deep Creek and cutting off their way home. Rachel puts all of her faith in God to save them. Asher thinks believing in God is a waste of time and does what he can to prove to Rachel that He doesn't exist.
Read February 2013
Free ebook from Smashwords
4 Stars
My Review:
This is a Christian Fiction book. Although I don't agree with all of the religious principles expressed by the characters, I do believe in their conviction and their dedication to God. I am religious myself and sometimes find Christian Fiction books too pushy in their preaching. I felt like this had a lot of religion in it, but I didn't find it pushy. The story was strong enough and got the point across without forcing it on me.
I enjoyed the story and characters in this book. I liked the conflict in bringing these characters together and taking them through a growing journey. I liked the bit of romance.
Warnings: Survival trials, death (and for some, the religious aspect may be too much).
I would let my 15 year old daughter read this book.