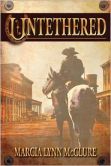 Untethered by Marcia Lynn McClure
Summary from Goodreads:
A man tethered by pain and guilt borne of past tragedy,
A young woman with the soul of a guardian angel,
And an unspeakable evil about to be unleashed.
As Cricket lay in the soft comfort of her bed, continuing to let her mind nest on thoughts of how truly wonderfully attractive Texas Ranger Thibodaux was, she giggled, thinking that looking at him was more refreshing than swimming naked on a summer Sunday afternoon. He was a tall drink of water—far taller than most of the other men in town—and his shoulders were as broad as the state of Texas itself. Sky-blue eyes, bronze skin, square jaw, and dark hair—and that smile! In truth, Cricket had only seen Heathro Thibodaux smile three or four times, but each incidence was something she'd never forget. His smile was bright and white, and the gold tooth he owned on the upper-right incisor of his smile only embellished the richness of it.
That one tooth. Cricket's smile faded as she thought of it. Oh, no doubt the flash only added to the splendor of his smile. Yet it also served as a reminder to anyone who had ever read or heard of what had happened in Texas one year before. No doubt it was a powerful remembrance to Heathro Thibodaux himself—a visual indication of true barbarity, pain, and loss.
In that moment, Cricket wondered—when Heathro looked in the mirror each morning and saw that tooth, did he think of eight dead girls buried in the bottom of a bleak and barren canyon? Did he think of the eight dead girls that he, for no fault of his own, had been unable to save?
4 Stars
Read September 2013
Historical Romance, Free e-book on Kindle (read on phone and tablet)
My Review:
This historical romance has some really wonderful aspects. I loved the main character and her friends. They were a great group of girls that would be fun to know.
Between the conflict and the romance, there were situations in this book that were intense. I would consider this book clean, but it had heavy kissing and discussion of "how babies are made" and white slavery.
Warnings: Heavy kissing, white slavery
I would not let my 15 year old daughter read this book at this time.