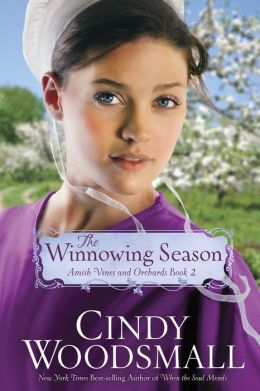 The Winnowing Season by Cindy Woodsmall
An Amish Vines and Orchards Book 2
Summary from Amazon (Goodreads didn't have a description, imagine that!):
The tornado that devastated Kings' Orchard pushed Rhoda, Samuel, and Jacob to make a new start in Maine. Are they strong enough to withstand the challenges of establishing an Amish community—and brave enough to face the secrets that move with them?
On the eve of their departure to begin a new Old Order Amish community outside of Unity, Maine, Rhoda Byler is shocked to discover that choices made by her business partner and friend, Samuel King, have placed her and her unusual gifts directly into the path of her district's bishop and preachers. She is furious with Samuel and is fearful that the Kings will be influenced by the way her leaders see her, and not what they know to be true—that Rhoda's intuition is a gift from God.
Jacob King won't be swayed by community speculation. He loves Rhoda, believes in her, and wants to build a future with her in Maine. But when the ghosts of his past come calling and require him to fulfill a great debt, can he shake their hold before it destroys what he has with Rhoda? Samuel has a secret of his own—one he'll go to great lengths to keep hidden, even if it means alienating those closest to him. Throwing himself into rehabilitating the once-abandoned orchard, Samuel turns to a surprising new ally.
Book 2 of the Amish Vines and Orchards series asks: can the three faithfully follow God's leading and build a new home and orchard in Maine? Or will this new beginning lead to more ruin and heartbreak?
4 Stars
Read April 2013
Adult Fiction, Library Book
My Review:
This is the second book I have read by Cindy Woodsmall, the first one being the first book in this series.
This book series fascinates me. I like learning about the Amish culture. And, this series has a "paranormal" aspect to it. Don't be afraid though, it's not sci-fi paranormal. It's more of the seeing visions/hearing voices kind of paranormal. There is mystery in this book.
There is also a lot of angst. This book has more angst in it than the first book. There is more emotional conflict between the characters. The secret keeping causes conflict as well.
And, like any good "middle" book, this book ends with new questions and some of the previous issues unresolved. Now I will be anxiously awaiting the next installment to see what happens to these fascinating people.
Warnings: I can't think of anything specifically, but they are adults (most of them) dealing with work, bullying, and relationship issues.
I would let my 15 year old read this, but it is definitely an adult book.