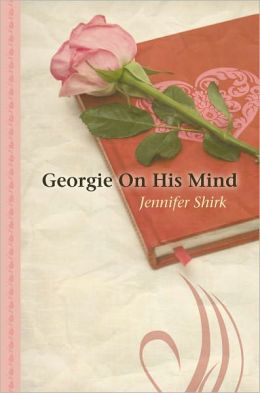 Georgie on His Mind by Jennifer Shirk
Summary from Goodreads:
Georgie Mayer has no boyfriend and rarely goes out. In short, she needs a life. Since graduating from college and returning home, her brother's protectiveness has been in overdrive, and she hasn't been able to have any fun, never mind go on a date. So what's a poor particularly attractive girl to do in a situation like this? The only thing she can do: find him a woman! He'll thank her for it in the end. That is, if his best friend Walt Somers would stop interfering with her plans. The handsome pharmacist has made it no secret that he doesn't approve of what she's up to. Unfortunately, having Walt hanging around does strange things to her mind, and she finds she can't help but take a healthy interest in him. But how can Georgie entertain thoughts of the two of them together when Walt still treats her like his best friend's little sister?
3.5 Stars
Read June 2013
Contemporary, library book (the first image is the edition I read. I kind of like the green cover better)
My Review:
I liked this book. It was cute, had some funny moments, and some sweet moments. There was lots of misunderstanding which was the conflict in the book. It was a clean romance.
Warnings: None
I would let my 15 year old read this, but I wouldn't recommend it to her.