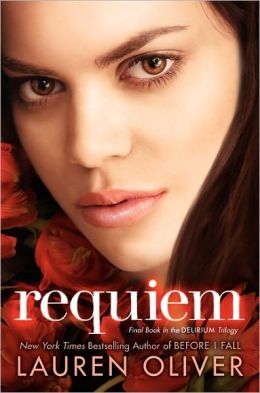 Requiem by Lauren Oliver (Delirium Trilogy #3)
Summary from Goodreads:
They have tried to
squeeze
us out, to stamp us into the
past
.
But
we
are still here.
And there are more of us
every day
.
Now an active member of the resistance, Lena has been transformed. The nascent rebellion that was under way in Pandemonium has ignited into an all-out revolution in Requiem, and Lena is at the center of the fight.
After rescuing Julian from a death sentence, Lena and her friends fled to the Wilds. But the Wilds are no longer a safe haven—pockets of rebellion have opened throughout the country, and the government cannot deny the existence of Invalids. Regulators now infiltrate the borderlands to stamp out the rebels, and as Lena navigates the increasingly dangerous terrain, her best friend, Hana, lives a safe, loveless life in Portland as the fiancée of the young mayor.
Maybe we are driven
crazy
by our feelings.
Maybe love is a
disease
, and we would be better off without it.
But we have chosen a different road.
And in the end, that is the point of escaping the
cure
: We are
free
to choose.
We are even free to choose the
wrong
thing.
Requiem is told from both Lena's and Hana's points of view. The two girls live side by side in a world that divides them until, at last, their stories converge.
4 Stars
Read May 2013
Young Adult/teen/dystopian, library book
My Review:
I have really enjoyed this trilogy. It is an interesting look at one's freedom to choose and a unique look at love, as a disease.
As much as I enjoyed the first 2 books, this one was a little harder for me. For some reason I struggled with the back and forth between the 2 voices of Lena and Hana. I liked knowing what was going on in both places, but it was hard at times to pick back up where I left off with the other voice. I sometimes had to go back and read where that person was and what was happening before it had been interrupted by the other voice.
I also felt a lot of angst in this book. It is good that a book can bring on feelings and this one definitely provoked anxiety. And to top it all off, this book doesn't end with a neat bow. The characters are free to choose where their lives are going to go and we don't get to see it. The point is that they are able to choose. (I'm glad they can choose, but what happens to them?!)
The main message I took from these books, and I think that Lauren Oliver wrote it beautifully in this third book, is this:
"Who knows? Maybe they're right. Maybe we are driven crazy by our feelings. Maybe love is a disease, and we would be better off without it.
But we have chosen a different road. And in the end that is the point of escaping the cure: We are free to choose.
We are even free to choose the wrong thing."
Warnings: More swear words than I prefer, but only a few of the f-word. Death, emotional abuse
I would let my 15 year old read this series.